July 14, 2023
This is the son of one of the OQC board members. We're happy to send him treats to share while he's deployed!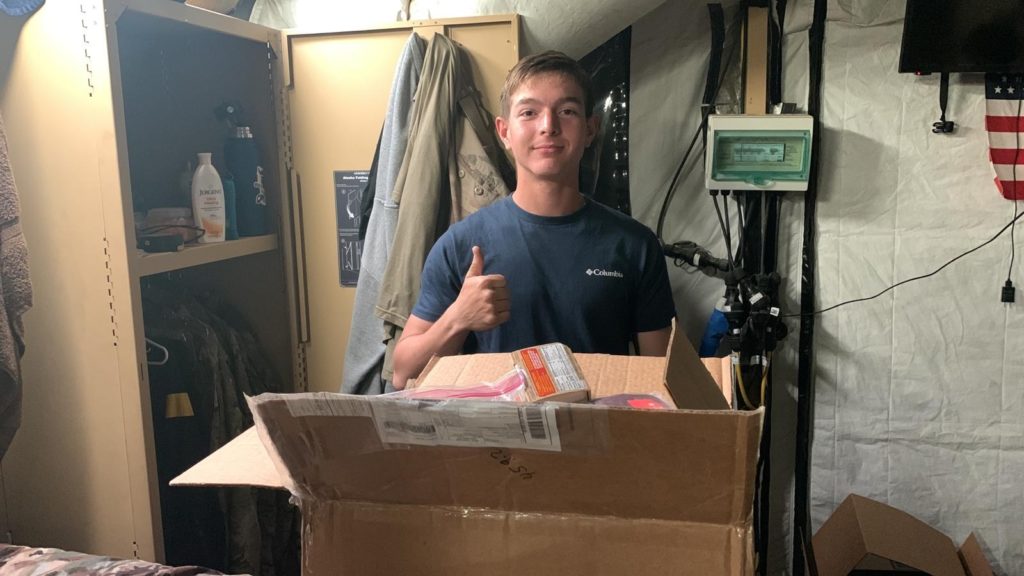 April 7, 2022
Operation Quiet Comfort,
On behalf of Erbil "Hotline" Dustoff, we appreciate the packages and support sent to us, it provides us with useful items, snacks, overnight bags, blankets etc.. that enhance our mission readiness. Thank you for all you do.
Thanks for Christmas stockings
January 8, 2022
December 21, 2021

Hello,
My name is 1LT Diana _______, and my unit received some very thoughtful packages from you a few weeks ago. We received backpacks packed with super helpful and useful items. The hygiene items, stationery, and word search books were all really appreciated! Many of us have been using the backpack as a shower caddy too–it's the perfect size!
Thank you so much for what you do! The packages were not only a huge boost to morale, but a reminder that people back home are thinking of us!
Thank you again,
Diana ________
September 2021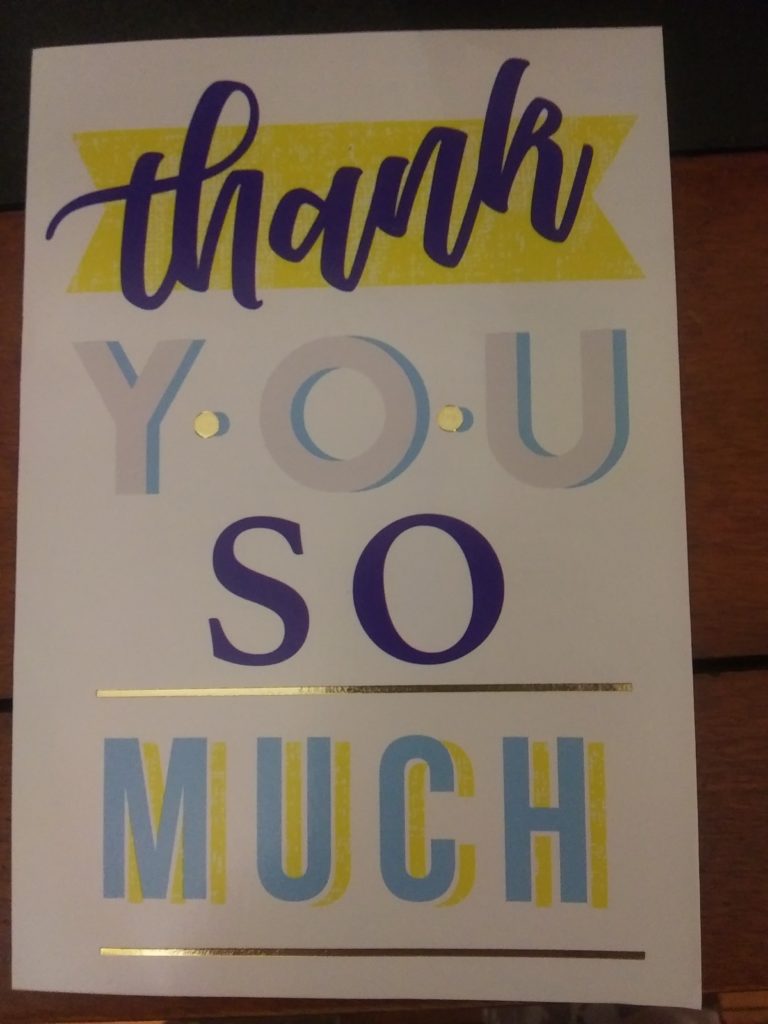 June 18, 2021
Hi,
Please share this with your packing teams across the country. We got a few of your packages last week. We are so thankful for people at home who think of us and freely give of their time and assets to look out for our needs.
We're doing really well. We are safe most of the time, we have a pretty good chow hall, and we have access to most everything we need thanks to Amazon. We probably have enough toiletries and snacks to last us for several months if we go through everything. We usually share the packages we receive with soldiers outside of our company just so that everyone can enjoy the box of love that is packed at home.
We are a MEDEVAC platoon of 16 soldiers. We sit and wait patiently for someone in our theater to have a bad day. It's not what we want to happen, but it always does. I get to be that shining ray of hope on a very crappy day. I work as a flight paramedic and treat our sick and wounded soldiers and contractors in the back of my UH-60 Blackhawk helicopter. We transfer them from the battlefield or aid station to a hospital with surgical capabilities. You can watch a YouTube movie called "When I Have Your Wounded," if you want to learn more about our mission.
Again, thank you for your support and for your gifts. More than snacks, we appreciate knowing that someone at home cares.
Regards,
SSG Douglas _______
Air Ambulance NCO
May 28, 2021
I am in Afghanistan (HKIA). I am a USMC Veteran and a current DoD Civilian. I found a beautiful freedom quilt in one of the rooms we manage. We are currently retrograding and will be gone very very soon. I have read all the signatures and all the things that were written on the blanket and can tell you that each one brought me a smile and made me feel what I hope each American feels. I will be taking it home with me and will hang it on my wall where it will serve to remind me each day of how lucky I am to be an American and an American Marine.
Ric ______
January 10, 2021
Hello sir/ ma'am,
Today I had just received a wonderful gift while in quarantine in South Korea! The message from the Girl Scouts helped me a lot, and made me remember the times I was a Girl Scout doing the same thing. This is my first year in the military, and due to covid it was difficult to see my family, even though I did, it was still quite lonely being away again, and I cannot thank you enough for making my days brighter. If this message is received, will it be possible to say a thank you to Ava in Troop 19415? I would like to tell her that her message was received from such a far area. Thank you again, and I hope the days ahead will be more wonderful than the last.

Airman Lauryn ____
___ Force Support Sq
_____ Airbase, South Korea
December 31, 2020
Dear whom this may concern,

We would just like to say thank you for the care packages you have sent here for us. The Soldiers of our unit really appreciated them. It's little things like this that we are extremely thankful for and what makes us get through the obstacles we are facing during this tough time. We truly appreciate you taking the time to send this to us and writing us as well. I hope you have a wonderful and blessed day.

Sincerely,
Chaplain Ron _______ & SGT Tashawna_______
Unit Ministry Team (UMT)

December 28, 2020
Hi Barbara and Operation: Quiet Comfort,
Thank you for the gifts from Operation: Quiet Comfort! Our Chaplin delivered the gifts under our section's mini Christmas tree on Christmas eve. It brought comforts of home to deployment. Thank you!
Happy New Year!
Meredith
October 26, 2020
Hello!

We received your package!!!! It was soooo awesome!! Thank you so much. So many Soldiers appreciated it and plenty of people got something they enjoyed! Life isn't too bad over here and we are making the best of it. Taking it one day at a time, 2 months down! Our platoon currently runs a Role 1 Aid Station with our PA and we enjoy it. Sometimes it is pretty slow but sometimes, it keeps us busy. There isn't much to do unfortunately because of COVID but the gyms are open so a lot of us are happy campers! Thank you again and look forward to hear from you soon.

Contact Name: SGT _____ ______
Type of medical unit: Role 1 supporting roughly 400 Soldiers
Date of expected rotation stateside: May 2021

We love snacks and hygiene items always!!

V/R,

______ ______
May 31, 2020
Dear Friends,
Thank you for the gifts you have sent to my friends and I. We appreciate them immensely. I hope that everything in your lives is well, and if it is not, it will definitely get better. Your packages and little notes that you guys send us make us very happy and keep us going. I wish you all the best and never stop being you.
Spc ________
June 23, 2020
I just recently arrived to Kuwait and have been working on improving our office space. Yesterday I was sorting through boxes and came across parts of care packages that you have sent us with your contact information on it. I hope you were thanked when it arrived, but I wanted to make sure. Here is a little about us. The 311th is an Army Reserve unit out of Los Angeles, CA, but our people are from all over the country. I live in Tucson, AZ. The 311th is a logistics organization that is responsible for all supplies coming into the Middle East on boats and planes, loading it on to trucks and helicopters, and sending it forward to service members in one of the 14 countries we support.
Here in Kuwait it is very hot on average 110 degrees from 12 to 5 pm, and no rain since we have been here. We are not in much danger here, but it is very taxing because everything but the Post Exchange which is like a mini-Walmart is closed. You can see us on Facebook at 311th Sustainment Command Expeditionary, Instagram #311esc.
I have served in the National Guard and Army Reserves for 20 years. My wife Erin and I have been married for 14 years. We have four children, 3 girls and 1 boy.

CH (MAJ) Jason _____
1TSC-311th ESC
APO, AE 09366

Jason R. ______
MAJ, CH
Family Life Chaplain
1st TSC-OCP/311th ESC
Arifjan, Kuwait

May 6, 2020
Hello Operation Quiet Comfort,
We are the 304th Unit Ministry Team and we have received your "Go Bags" filled with awesome supplies the Soldiers can use. We have added a bag of snacks and some toiletries to the bag and we are sending them off to boost the morale of the Soldiers here.
We want to say thank you for your continuous support, dedication, love, and appreciation for the Troops.
We have attached photos of your bags ready to be given to the Soldiers and we have also applied an additional greeting tag with your organization on it, and on the other side, of course is your contact information.
With all of our hearts, we thank you!
SPC _______
RAS 304th UMT
March 20, 2020
Ladies,
Words cannot express how grateful we are for the quilts. They were gone about as quickly as we opened the boxes. The quilts are so beautifully done. If possible, we would love to have more sent to us. I know they would be appreciated by many of our Soldiers who are missing a piece of home. We have many Soldiers that stop by my office daily. I reviewed your list, and think these would be additional great items to send if possible: flip flops, coffee, snacks, and quilts.
Thank you very much! Your dedication to our nation's Soldiers is very much appreciated and received with gratitude.
CH (MAJ-P) Steven ____
Command Chaplain
_______, Kuwait
Feb. 2, 2020
Dear Operations Quiet Comfort —
I'd like to thank your organization for the thoughtful gifts you sent us here in Kuwait during the Holiday Season. The care packages were enjoyed by many. Your thoughtfulness brought smiles to many of us separated from our families over the holidays. Thank you very much!
Best Regards,
Col. _______
Dec. 29, 2019
Thank you to you all for the support and generosity you have shown towards our troops. It is so touching to know that you have us on your minds and in your hearts, especially during the holidays when we are away from our loved ones.
I have attached a photo of our medical group holding some of the cards we have received from children across the States.
Season's greetings and best wishes from the 380th Expeditionary Medical Group, Al Dhafra Air Base, UAE.
V/r,
Col ____________
380 EMDG/ Unit #61116
APO, AE 09853
Dec. 8, 2019
Subject: Thank you from Kuwait
Thank you to you and your amazing team for sending such great packages. We here at III Corps really appreciate it. Thank you again and Happy Holidays.
CPT ______ ______
US ARMY
Dec.7, 2019
CLASSIFICATION: UNCLASSIFIED
Good morning/afternoon,
Our team received your awesome holiday stockings–thank you! They've been hung on our walls and are bringing smiles to our team and to those that see them.
Thanks again for the time, consideration, and of course the support of you and all contributors.
May happiness and joy surround you and yours through and beyond the holiday season.
Very respectfully,
Master Sergeant ______
Dec. 5, 2019
CLASSIFICATION: UNCLASSIFIED
Hello All,
We've just received 6 more boxes of stockings!
I can't thank you enough for all the snacks/Christmas cards/goodies that came with them.
We're passing them out to everyone here, and hopefully we'll get some pictures and send them your way!
V/R
SSgt _____ ____ USMC
CJTF-OIR, CJ2 OPS
DSN: 318-480-2647
SVOIP: 308-430-6090
Nov. 25, 2019
Hello,
I hope this email finds you and your families well. We are very thankful for your wonderful care boxes and your well wishes.
I am the Commanding Officer of the NATO Multinational Medical Unit in ________,Afghanistan. Our troops received many care packages just in time for Thanksgiving and Christmas.
We are so honored to represent our great Nation and people like you all over the World. .Happy Thanksgiving and Merry Christmas!
May God bless you all and may God bless the United States of America.
Very Respectfully,
CAPT. _________
Commanding Officer
________ Airfield
Afghanistan
Nov. 8, 2019
Good morning,
I wanted to thank you for the care package you sent our troops. It is extremely thoughtful and gracious. We truly appreciate your generosity, kindness and support. It does not go unnoticed.
God bless you all!
V/r,
Ina
Oct. 10, 2019
CLASSIFICATION: UNCLASSIFIED
Ms. Barb DeClement,
Wow, were do I begin? What an awesome surprise to have gotten a box sent to our Soldiers in the Middle East with a backpack, (they need for the gym), some great toiletries and a way to say Thank you.
From our Soldiers to you and the Operation Quiet Comfort Organization, Thank you from the bottom of our hearts for all you do for us. We are truly grateful to be thought of and honored to serve you and this great Nation!
Please feel free to contact me for other Soldiers that are here. We welcome your generousity.
V/r
Arlene T. _____
Sept.14, 2019
Team,
Recently acquired a "Cool Comfort neck Tie" with the polymer granules. I am deployed to Iraq and just wanted to say thank you.
We appreciate your love and support and never forget the members of the team back home.
– Josh _______
Sept. 4, 2019
CLASSIFICATION: UNCLASSIFIED
Greeting,
I want to take the time out to thank each of you for sending us care packages here in Kuwait.
They really boosted our morale significantly.
The troops love them! Because they know that there are people that care about them back home. Especially troops with no families.
Thank you!
V/R
SSgt _________ USMC
Sept. 3, 2019
Ms. Declement,
My name is HM2 _______ and I am a Navy Hospital Corpsman from just
across the river in Elizabethtown currently deployed in the Middle East.
Today we received your care package containing some very popular snacks for
the guys. On behalf of everyone at the clinic, thank you very much!

Very Respectfully,
HM2(AW) _________
__ Expeditionary Medical Clinic
Aug.12, 2019
CLASSIFICATION: UNCLASSIFIED
Today I stumbled across a care package sent to one of our Chaplains out at Camp _____, Kuwait.
I was absolutely thrilled to snag me some Mac n' Cheese! Seriously, today we were kept at the office a bit late. And my metabolism is on overdrive because of some physical training I'm doing, and my system does terrible when I get delayed from meals. But today, I found the mac n' cheese that was sent, and it was a God-send.
So thank you, for all you do.
You're making a difference.
Kelly A. ______
CH (LTC), USAR
USARCENT Ops/TSC Chaplain
________, Kuwait
July 2, 2019
Good Morning,
We wanted to say, "THANK YOU SO MUCH" for the care package of backpacks with toiletry bags, books, and phone cards! Attached are a few of us at the Expeditionary Medical Clinic sporting our new backpacks. (The pictures were blocked but imagine the smiles!)
These bags are super convenient when we are able to go off base and only need to take a few things with us vs the larger backpacks that we used for our stuff to get here.
The toiletries are also convenient since the little store on base has limited items.
We cannot thank you enough for your support while we are away from home! All your hard work getting these boxes and bags together does not go under appreciated!
Very Respectfully,
HM2 (FMF) Joshua
Preventive Medicine Technician
Dec. 12, 2018
Quiet Comfort Team:
Just a note to tell you that, your kindness and expressions of love mean the world to us all here at the T F-MED, the Lighthouse Chapel and the Resiliency Center.
Our Wednesday Bible Study groups and I constantly lift your team up in prayers.
Please pass on, your care packages & back packs have been a huge success. We have used them to comfort some of the wounded that have been brought to our doors on short notice and didn't have nothing but the clothes on their backs.
So you guys Rock!!
Blessings in advance,
CH (MAJ) Luis ______
Dec. 26, 2018
Good Evening,
Hello, my name is Staff Sergeant _______. I would like to thank you for your generosity for the wonderful care packages you all are sending to Lilley Chapel. I have replaced Connie as the chapel NCOIC (non-commissioned officer in charge). As Connie departed a month or so before my arrival, I'm just catching up and getting to write to all who have been so generous to provide us with care packages. We have a welcoming environment at Lilley Chapel. Soldiers come in before, after, or during duty to enjoy coffee and goodies brought in by care packages. We set the care package items out in the chapel for service members to enjoy. It gives us an opportunity to speak with them when they come in, to ask them about their family, how there day is going, or just to chat for a few minutes. We are very thankful for you and your team, to be able to get together and provide these goodie boxes for Soldiers, giving them a taste and a piece of home. We look forward to receiving more packages and continuously putting smiles on our Soldiers' faces.
Again thank you and your team for all the hard work you all do in supporting the troops. Look forward to hearing back and receiving more packages.
SSG _______
Religious Affairs NCO"
Dec. 3, 2018
Hello
I am Sgt. ____, I received one of your backpacks that was filled with goodies. I must say it did my heart good to read the cards and see the small flag that the girl scouts made. I am glad that people stateside still think of us. My wife and I both are deployed and good people like you have helped my mother take care of our children. People back home don't really know how th simple things from back home are missed. Thanks again for the support.
SGT. Kelvin ____
Nov. 6, 2018
OPERATION: QUIET COMFORT,
I would like to express my heartfelt gratitude to OPERATION: QUIET COMFORT for the care packages. I truly appreciate your patriotism and support for the Armed Forces.
The ______ Company Soldiers are ecstatic to receive bedding, snacks, socks and personal hygiene items. In times of separation from family and friends; it's a blessing to have an organization that can provide these amenities.
On behalf of the Commander CPT James _________ and I thank you!
Very respectfully,
1SGJasonL. ______
Kuwait
Oct. 12, 2018
Good morning Ma'am,
I just received a care package form your organization, and I want to thank you very much. I would also like to respond in regards to future care packages. I work in the deployed behavioral health clinic as a part of Joint Task Force ______, one of the things we use to make our clinic a more enjoyable space is having snacks and hygiene materials from care packages available for our troopers as they come thru. Our clinic is staffed by 2 females, and 7 males, and with approximately 20 clinic contacts a day. We would greatly appreciate receiving more materials from you in the future. My shipping address can be found below. Again thank you very much, and I hope you have a great day.
Austin _______
July 11, 2018
Greetings from Commons Chapel,
My name is SGT Jared ____ and I am a Chaplain Assistant working for a Joint Task Force in Afghanistan. The chapel I run has received packages from your organization. I cannot begin to express how much the Service Members here appreciate and sometimes rely on these packages. The packages you send have impacted individuals at every rank and from all branches of the military.
Again, there are no words to describe how much your contribution has meant in the past. I
would love to be able to continue to support the members of my Joint Task Force with your help. Things we can always use are basic hygiene product (bars of soap, shampoo, tooth paste, tooth brushes,deodorant), Snacks (cookies, candy, beef jerky, trail mix), and drink mixes (Kool-Aid, K-Cups, Crystal Light). Anything you can send will be distributed to our task force of over L500 Service Members from all branches of the military.
Thank you for your past support and I look forward to any support you can provide in the future. It means the world to me that there are people back home thinking of us and who are willing to sacrifice their time and resources to support us all the way on the other side of the world.
Religious Support Team
Senior Enlisted Advisor
Afghanistan
God Bless,
SGTJared ____
June 30, 2018
Hello,
Just wanted to let you know that we received some packages from you the other day and a coffee machine. Can't tell you how much it meant to my guys. It will definitely come in handy this deployment. Thanks again for all the support! It is greatly appreciated.
SSgt _________
June 17, 2018
Jan Houin,
Good morning. I wanted to say thank you for all your support during my time away from my family. The Soldiers here are also very thankful for Operation Quiet Comfort's support. I have passed your information on to my replacement.
Keep doing what you do because it makes a world of difference to us.
Sincerely,
SFC Colleen _______
June 9, 2018
Dear O.Q.C.,
We all thank you for the bags and care packages. Everyone was touched by the letters and notes. Keep up the good work back home and know that your love and thoughts are making it here just fine.
Ever Grateful,
SPC Nicholas ________
March 7, 2018
Dear Friends at Operation Quiet Comfort,
Thank you for your overwhelming kindness and support of the Sailors, Soldiers, Marines, Airman, and Coast Guardsman that have benefited from your care packages. Your combined efforts remind us all of our loved ones back home and bringing us joy during this trying time in our lives. It is a great feeling to know there
are so many wonderful people at home thinking of us.
Thank you again for all of your support.
Sincerely,
HN Ebonni _______
January 29, 2018
Operation Quiet Comfort,
Happy New Year!
Thank you for all the Holiday decorations & wonderful snacks you have sent us for our troops here at Bagram. You made their holidays so much brighter.
TSGT C_____, US Air Force
January 29, 2018
We want to say a Big Thank You for all your support. Thank you for your letters.
The soldiers with ___________ are very thankful and everyone of us that have read your letters. The Go Bags are great for the soldiers that are going/passing through to report to their duty locations.
Happy New Year & God Bless
SFC C. _____
U.S. Army
January 23, 2018
Dear Operation Quiet Comfort,
"I wanted to take a moment to say thanks for the Reader's Digest, cards, note and Crossword Puzzle book. It means a great deal to a Soldier to receive goodies packages and cards from the states. Keep doing the great deeds that you are & thank you for supporting our troops and families."
US Soldier
MSG Tammy ______________
December 30, 2017
Hello!! I wanted to thank you for your kind gesture and support of the troops! I received one of your wonderful cards and goodies and wanted to thank you. Please know that your contributions mean a lot to the service members. I wanted to write u back but I could not find an address, just a name. Thank you Barbara ____ from Plymouth IN! Wishing you only the best all the way from the Middle East! God bless.
N. ______
Operation Quiet Comfort,
Please forgive my choice of "Thank You" card, I have a limited selection. I am writing on behalf of our hospital here in Afghanistan, and want to sincerely thank you for thinking of us and sending to us, some comforts from home.
Thanks Again and Happy Holidays
LTC, G
Hospital Commande
December 24, 2017
Dear Jan S-H,
Thank you for sending all the things you sent and the cards and stockings. It really made a better Christmas for me and most of the soldiers around me. We really appreciate it.
Please tell Pam that I appreciate her note also. There's no other information, but she wrote a nice note and I appreciate it.
Thank you very much, and God bless you all.
Merry Christmas,
Michael L. _____
Camp ____, Kuwait
APO, AE ______
December 5, 2017
All I can say is WOW! And Thank you.
I received several boxes of care items and stockings today at Lighthouse Chapel Baghdad Diplomatic Support Center, Baghdad, Iraq. Big thanks to your teams from Plymouth IN night packing crew on filling these boxes with love and honor to our support personnel, Combat Support Hospital, Recon Teams, Police Teams, Navy Special Forces, Army Special Forces, Veterinary Army Staff, Civil Engineers, Contracting personnel, Food Service Staff, Red Cross and the many more that make up the BDSC team.
Great work and partnership as we celebrate this Christmas Season and take care of the missions in Iraq and Syria. You are amazing.
For God and Country,
Chaplain (MAJ) Tony M. ______
TF MED CSH Chaplain(BDSC)
---
December 7, 2017
Operation Quiet Comfort,
There is not enough words that we can say for every thing you all do for soldiers. We are very thankful and it means a lot during this time of year.
Thank you,
SFC Colleen _____
U.S. Army
---
December 9, 2017
Good morning!
My name is Sgt Baker, Ryan. I am currently stationed at Camp _______, Kuwait. I am an Information Technology Analyst for the United States Army Signal Corps. Recently, we received a care package from you and was overjoyed upon opening it! We quickly began to distribute the snacks, candy, toiletries, magazines, socks and games around the platoon and buddies. It's almost Christmas and your generosity brought a smile to each and every one of our faces. Being separated from our family, loved ones and friends during this time of year is extremely difficult. We each deal with it in our own way. I wanted to formally thank you for you relentless support and unwavering dedication to United States service men and women stationed abroad. Words do not do justice to explain how grateful we truly are. I hope that you have a very Merry Christmas and an extremly festive New Year. All my love and respect.
Respectfully,
Sgt Ryan C. _______
"Warriors lead the way!"
---
Dear Jan and all the good people at OQC,
Thank you very much for your support! It REALLY matters. Knowing that you wish us well helps us focus on the task at hand.
Merry Christmas to you and yours. It's almost Christmas time our here in Kuwait. When I arrived in August I never thought Kuwait would ever be cold, but we are experiencing some cold weather here. It sure beats 120 degrees.Let everyone know that we appreciate them and the work they put in. We have really been amazed by all the letters and boxes that have been arriving from the USA.
LOTS of what we find in the care packages are put to good use, I assure you.
Best wishes!
David
Respecfully,
David _______, USAF
Joint Task Force Operation Inherent Resolve
OIC, Collection Management
Camp ______, Kuwait